| | |
| --- | --- |
| Posted on March 23, 2008 at 10:44 AM | |
CCleaner is a powerful FREE program I use weekly to help keep my computer up to speed. It has all kinds of great features that make it very useful to me. If you find that your computer is slowing down, one of the easiest ways to help speed it back up again is to delete all the temporary and junk files that are left on your hard drive as you use programs and browse the Internet. These junk files can be in your temporary Internet folders, bits of data that programs use while operating then discard when they're done, or even parts of your computer registry. CCleaner helps out in all these areas, as you'll see below.
You can download CCleaner for FREE by clicking HERE.
Following is a short rundown of some of the things that CCleaner can do for you.
From CCleaner's "Cleaner" Page (pictured below):

Clean Out Temporary Internet Files In Firefox, Safari, Internet Explorer and Opera

Empty the Recycle Bin and Windows Temporary Files

Delete Chckdsk File Fragments, Windows Log Files and Clipboard Contents

It Can Even Remove Junk Files Left Over From the Use of All Kinds of Common Programs
The "Registry" page (pictured below) is a registry cleaner tool. It can remove unused and broken registry keys.
This can help speed up your computer's performance.
The registry cleaner tool can also backup your registry, in case you need to undo any changes.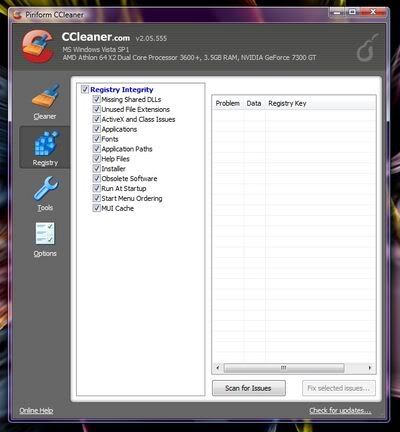 The "Tools" page (pictured below) has two different options.
The 'Uninstall' button provides an easy way to let you uninstall programs quickly, without having to go through the Windows Control Panel.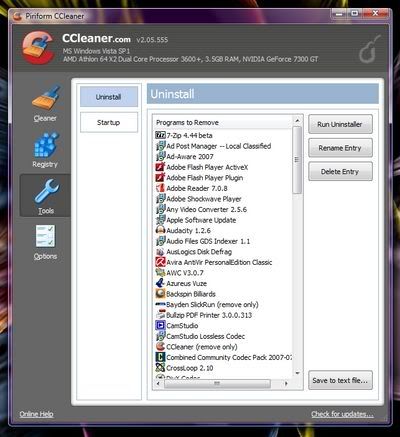 You can also use the 'Startup' tool on the "Tools" page to prevent programs from starting with your computer. This can help speed up your computer's startup time.


The "Options" page (pictured below) is full of options that you can use to manually adjust the program settings to your own preferences.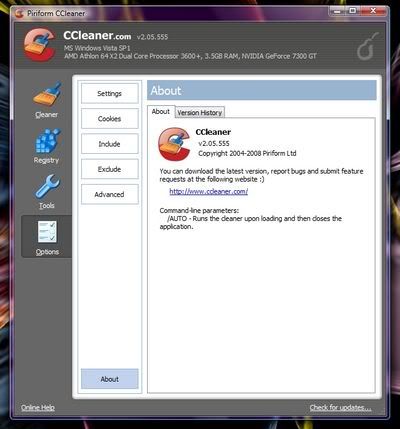 * As always, I cannot be held responsible for any damage that may occur to your system because of the use of this or any other programs mentioned on this website. Make sure you know what you're doing BEFORE you make any changes or use any other programs on your computer.