| | |
| --- | --- |
| Posted on April 18, 2008 at 12:52 AM | |
If you are using Windows Vista, you may have noticed some 'enhancements' to the operating system that just aren't that welcome. One of the most obvious changes is the behavior of the UAC, or User Account Control, service.

The way it works is this: Nearly every time you try to change a Windows setting or install a new program, you see a pop-up or two asking if Windows should allow the current operation to continue. You are completely prevented from using your computer  until you choose one of the options offered by that pop-up. Not cool!

These pop-ups are from the UAC service trying to protect your computer from potentially dangerous changes, such as those made by a virus or other malware.

If you're fairly confident in your computer security, you may want to turn off UAC so your Vista user experience is a bit smoother. The following simple directions are a very quick way to turn that feature off and allow you to do what you like with your system without Windows checking to make sure you know what you're doing.

1. Open theStart Menu and choose 'Control Panel'. Verify that you're not using the 'Classic View' option.

2. In the search box at the upper right-hand corner of the Control Panel, type in 'UAC'.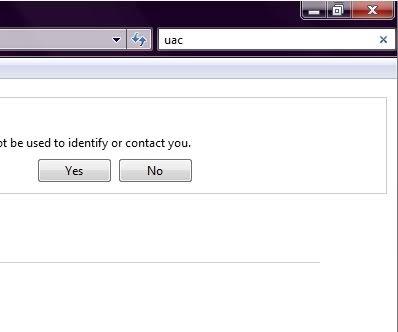 3. The search should return the result shown below. Click the link titled 'Turn User Account Control (UAC) on or off'.


4. Uncheck the box next to 'Use User Account Control'. Click the 'OK' button and you will be prompter to restart your computer.

Once you restart, UAC will no longer be active and you will stop getting those annoying pop-ups asking if you're sure you want to take the action you just chose to take.
* As always, I cannot be held responsible for any damage that may occur to your system because of the use of this or any other programs mentioned on this website. Make sure you know what you're doing BEFORE you make any changes or use any other programs on your computer.