| | |
| --- | --- |
| Posted on April 20, 2008 at 9:36 PM | |
While it won't necessarily contribute to your computer's security or stability, Automatic Wallpaper Changer (AWC) by Steve Murphy definitely will add some personality to your computing environment.
I have used AWC for about three years. It was installed on my old eMachines running Windows XP and it now runs on my Acer Aspire running Windows Vista. I installed it on my work laptop, a Toshiba Satellite running Vista, and I also put it on a few friends' computers, some of which were eMachines and some of which were Dells or HP's running XP, and no one has ever reported issues with the program. In all cases, AWC has proven to be very stable and is widely regarded as an improvement over the default static desktop wallpaper that Windows offers.
You can find the download locations for AWC on Steve Murphy's website.
Once you download the program, you'll see the main window. Some of the options on this window are:
Choose the directory where the photos you want to use for the wallpaper are stored.

Choose the length of time you want each picture to be shown. I have mine set at 30 minutes.
Choose the position for the photo on the desktop.
The Main Window and its Options
More advanced options can be found in the File menu under the Preferences option. This menu offers all kinds of neat options, such as:
Choose what happens when you click on the tray icon.

Reset the list of wallpaper photos once it cycles through all the ones you have.
No repeats as it cycles through your photos.
Lots more! There are actually three tabs in the preferences menu which you can use to get the program to behave in almost any way you'd like.
The File Menu and its Options
The General Menu and its Options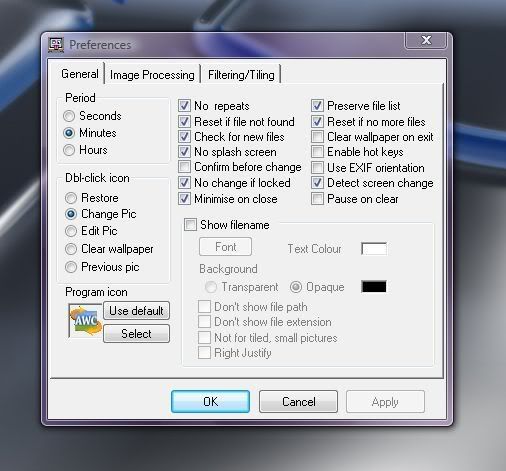 The Image Processing Menu and its Options
The Filtering/Tiling Menu and its Options
To choose the folder holding the photos you want to use for wallpaper, click the button with three dots on the main screen.
Click the Button With Three Dots to Choose Your Photo Folder

Use the directory tree to navigate to the location of your photo folder, click to highlight it, and click 'OK' to choose it.
The Directory Tree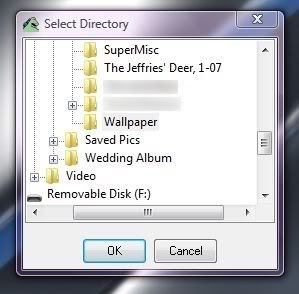 On the main screen, check the box titled 'Display Files in Subdirectories Too', if you want the program to use photos inside any sub-folders in the folder you chose.
Choose This Option to Use Photos in Subdirectories

AWC will display an icon in your system tray that you can double-click to bring up the main screen, change the wallpaper, open it for editing and several other options. I have mine set to change the wallpaper.
The Tray Icon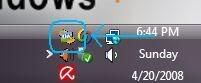 Finally, by right-clicking the tray icon, you will be given a context menu that will allow you to choose a number of useful actions as seen below.
The Tray Icon's Context Menu

Here is a short video showing the wallpaper being changed when I double-click the tray icon.

There are many more options and features that weren't discussed in this article. Feel free to explore the settings that are available once you've downloaded and installed the program. There is a full explanation of AWC's features on Steve Murphy's website.
I have found AWC by Steve Murphy to be a welcome addition to my list of essential software. It helps to give my computer a personalized feel and keeps things interesting on my desktop. People often comment on my beautiful wallpapers (you're on your own when it comes to photo selection), and my 19-inch widescreen LCD monitor really brings my selection of photos to life, with the help of this program.
AWC uses very few system resources, so in my experience, it doesn't hurt to have this program running even on slower computers. For computer personality and desktop variety, Automatic Wallpaper Changer by Steve Murphy is my choice!
*As always, I cannot be held responsible for any damage that may occur to your system because of the use of this or any other programs mentioned on this website. Make sure you know what you're doing BEFORE you make any changes or use any other programs on your computer.