| | |
| --- | --- |
| Posted on April 26, 2008 at 1:41 AM | |
Spybot Search and Destroy is a powerful tool in the fight against spyware and adware. It has a highly effective scanning method and finds threats that other tools might miss. It's free, receives regular updates, and has so many features you might not know what to do with them all.
Some features that I find especially useful are the ones that allow Spybot to be turned into an automatic program. These settings will make Spybot automatically do the following:
Update itself when started (for always-on Internet connections only!)

Immunize your system against threats on program startup


Scan daily, weekly or monthly and remove threats without any user interaction


The following step-by-step instructions will guide you through the process to turn your Spybot into an Auto-Bot!


Run Spybot S&D. Choose the 'Mode' menu title, and click the option for 'Advanced Mode'. Click through the confirmation dialog box.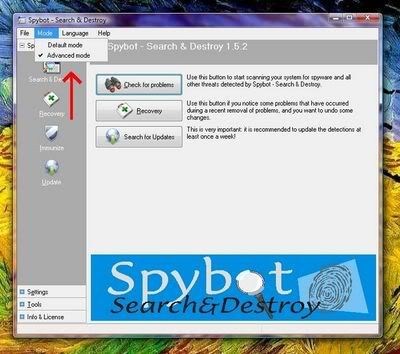 Now you should see some extra tabs along the left-hand side of the program. Click the one that says 'Settings'.
In the menu that comes up, choose 'Settings' again.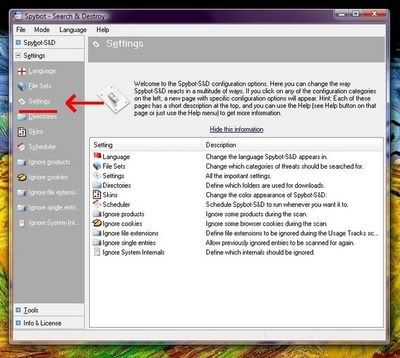 Scroll down to the entry titled 'Program Start' and put check marks in the boxes entitled:
'Immunize on program start if program has been updated' and

'Don't ask for fixing confirmation'

Now scroll down to the entry titled 'Web update' and put check marks in the boxes entitled:
'Search the web for new versions at each program start.' (Only if you have an always-on Internet connection!) and

'Download updated include files if available online.'
Next, click on the entry in the left-hand pane called 'Scheduler'. Click the 'Add' button, then click the 'Edit' button next to 'Add'.


Once the 'Schedule Task' window pops up, choose the 'Schedule' tab to set the time you want Spybot to scan for problems and the frequency of those scans.


Choose your frequency for scans (mine is weekly) and the time and weekday (mine is Monday at 7:00 PM). Click 'OK' to save your settings and exit the scheduling window.
On the Spybot 'Scheduler' window you are now seeing, put check marks in the boxes entitled:
'Fix problems after scheduled scan.' and

'Close program after finishing schedule.'
That's it! Here is a short Youtube video showing the whole process all at once.
You may close the program now and restart it. Spybot should take a little longer to open from here on out, as it automatically checks on startup for updates, downloads new definitions it may find, and immunizes your computer if it updated earlier.
With Spybot being completely automated, you don't have to worry about remembering to manually update, immunize and scan with this program. Set it and forget it! Spybot is now an Auto-Bot!
* Please note that the video and screenshots were done with Windows Vista. There may be slight differences in the above process on other OS's, but most of it should be pretty much the same.


* As always, I cannot be held responsible for any damage that may occur to your system because of the use of this or any other programs mentioned on this website. Make sure you know what you're doing BEFORE you make any changes or use any other programs on your computer.