| | |
| --- | --- |
| Posted on June 1, 2008 at 11:43 PM | |
New cell phones don't have good ringtones. It's a sad fact of life for those of us who like to personalize our ringers, and a clever sales tactic on the part of the cell phone manufacturers and service providers who offer these phones. If the ringtones that come with your new phone are obnoxious and annoying, they figure, we'll rush out as soon as possible to buy other ringtones at ridiculous rates ($2.99 for a 30-second clip of a song we could buy in full for $.99?!).
Happily, I found a way to create custom ringtones on the computer and send them to a Verizon LG VX8300 or LG VX5400 phone. The process is slightly technical, but anyone with a good basic understanding of Windows software should be able to do it.
This project requires:
1. The free audio editor program Audacity, which can be downloaded here.
2. Any audio file you'd like to turn into a ringtone, whether it be a song, sound bite or sound effect.
3. You'll need a copy of LAME.dll for encoding MP3 files, which can be downloaded here.
Before You Begin
The ringtones you create should be no longer than 30 seconds. With Verizon's default settings, incoming calls will ring for about that long before going to voice mail, so anything past the 30 second mark will never be heard. Additionally, in order to get the new ringtone onto your phone, you will email it as a picture message. The maximum file size that Verizon allows for the LG VX8300 seems to be limited to 250KB, and 500KB for the VX5400, so keeping your ringtone short will aid in meeting that size requirement.
The Process
To create the ringtone, open the audio file of your choice with Audacity.
Find a 25- or 30-second clip within the audio file that you think would make a good ringtone. Make note of the start and end times of that clip. Using the cursor, click at the beginning of the audio file and drag the mouse to the beginning of your selected clip. Press 'Delete' to remove the highlighted part. Click at the end of your selected clip and drag the mouse to the end of the audio file, and delete that section too.
You should now see only the 30-second piece that will become your ringtone.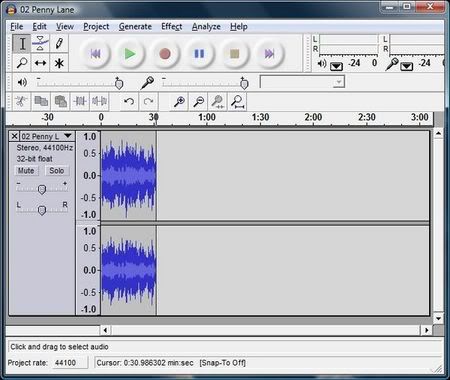 To give the song a nice finish, highlight the last three seconds or so and choose the 'Effect' menu and click the 'Fade Out' effect.
If you are using a short sound effect rather than a song clip, you can add a few seconds of silence after the sound effect so that it doesn't play rapid-fire on your phone. To do this, put your cursor at the end of the sound effect. Open the 'Generate' menu and choose 'Silence', and set it for one or two seconds.
Now that you have isolated the part of the audio file you want to use, save it as an MP3 file. Open the 'File' menu, and choose 'Export as Mp3' or 'Export as WAV'. Choose a place to put the ringtone and save it there with a unique name.
Notes For Exporting as MP3 Files

Before exporting your ringtone, you should set the bit rate for MP3 files at 48kbps. While this will reduce the quality of the sound, it will make the file small enough to fit into the specified size limit. The ringer speakers on these phones aren't very high fidelity, so you shouldn't really notice the lower sound quality.
In order to change the MP3 bit rate setting, open the 'Edit' menu and click on 'Preferences'.
Choose the 'File Format' tab.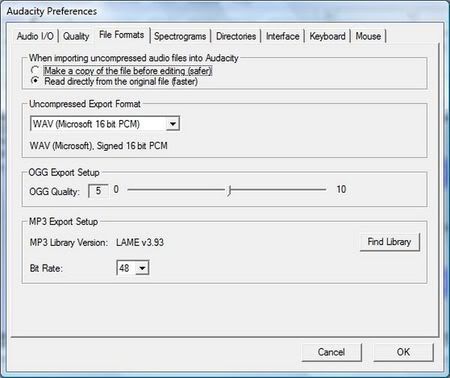 Under 'MP3 Export Setup', change the 'Bit Rate' field to 48, then click 'OK'.
When you choose 'Export as MP3' for the first time, you will be asked to locate the LAME.dll file through the navigation menu. Audacity will remember the location of that file, so make sure it's in a safe place.
Notes For Exporting as WAV Files

WAV Files are uncompressed, making them generally much larger than MP3 files, so it's a bit of a challenge keeping within the 500KB size limit. You'll have to play around with the length of your ringtones and the encoding properties to get it to work.
Verify that the MP3 file you've just created is less than 250KB or 500KB. If it's larger than that, go back to Audacity, trim it a little bit and try again, until you get it below the size limit.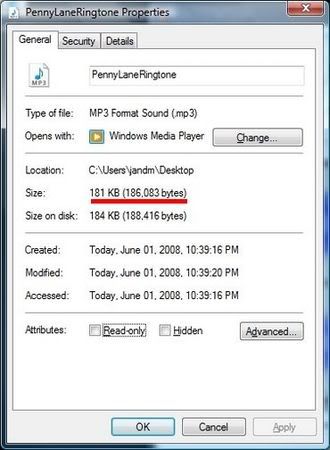 Get That Song Onto Your Phone
Now that you've created your ringtone, it's time to send it to your phone.
Compose a new email, and use your picture messaging address in the 'To:' field. Your picture messaging address is your10digitphonenumber@vzwpix.com. So if your phone number is 111-555-3333, your address should be 1115553333@vzwpix.com.
Attach the ringtone you've just created to the email and send it. Once it is delivered to your phone, open the message and play it. If it sounds good, use the 'Options' menu to 'Save As ringtone'. The wording in your menu might differ slightly.
Fine-Tuning Your New Ringtone
If the sound clip plays too quietly or loudly, you can adjust the volume in Audacity. Looking at the 'Audio Track' options next to the area where you edited the audio file originally, you should see two sliders. The top one is for volume level. Adjust it up or down to a level you think would work better, export it and email it to your phone again.
Once you like the way it sounds, save it as a ringtone and there you have it! Free ringtones!
The Video
Ringtones I've Made
The Beatles: Hello, Goodbye- 22 Second WAV Sound
Bjork: 99 Red Ballons- 20 Second WAV Sound
Jim Brickman: Devotion- 27 Second WAV Sound
Jurassic Park Theme Song- 10 Second WAV Sound
The Office Theme Song- 17 Second WAV Sound
Lux Aeterna: Requiem For a Dream- 17 Second WAV Sound
Star Trek Doorbell & Communicator Sound Effects- 1 Second MP3 Sounds
Skype Ringtone- 3 Second MP3 Sound
Macguyver Theme Song- 27 Second MP3 Sound
Extra Details:
The instructions presented in this article are from my own personal experience. I know they work on my phones, but I cannot guarantee they will work on anyone else's phone. If you have Verizon service and use either of these phones, please let me know your results.
I pay for a text/picture messaging package, so I am not charged for sending the ringtones to my phone. You may or may not have the same type of deal, so don't blame me if you get charged for messages or data rates after following these instructions. You oughta know what you're paying for with your phone service.
It's quite possible that these instructions will work for other Verizon cell phones as well. Also other service providers besides Verizon may allow you to email ringtones to yourself. Give it a try and let me know!
Keep in mind that some phones may use MP3 formatted ringtones (such as the LG VX8300) and some may use MP3 or WAV files (such as the LG VX5400) or some other format. If you send a ringtone to yourself and it doesn't play, try converting the file to another audio format. If it works, let me know!
*As always, I cannot be held responsible for any damage that may occur to your computer system or cell phone because of the use of this or any other programs mentioned on this website. Make sure you know what you're doing BEFORE you make any changes or use any other programs on your computer or cell phone.