| | |
| --- | --- |
| Posted on July 21, 2013 at 2:05 AM | |
Today I'd like to let you know about a way to advertise that really works using Craigslist. This is something I've done myself for years, and practically built my whole business from it.
Please see the attached photo, showing one of my interactive Craigslist ads next to a typical, plain-text ad (often with typos or poor grammar) from a competitor.
Please note: My Craigslist ad looks more like a website than a boring paragraph of text. My ad has buttons that can be clicked on that direct to different pages of my own website. The main portion of the ad is itself a big button leading directly to my website! (See my ads in action by CLICKING HERE)
All of this is done using simple HTML, free image hosting, and the Craigslist ad-posting service, which is completely free!
If you would like me to help you set up a similar ad for your business, please let me know and we can get that taken care of. It's usually around 2 or 3 hours of setup time ($80- $120), but after that you can post the ad yourself a few times per week from then on for no charge whatsoever.
CONTACT ME and let me know what you think. Have a great day, talk to you later!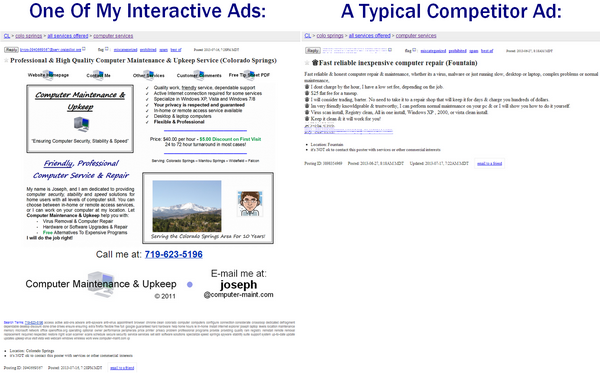 Categories: Computers, Software, Miscellaneous