| | |
| --- | --- |
| Posted on October 26, 2009 at 12:39 PM | |
Every once in a while, you see something that makes you wonder, "Why isn't everyone doing this?" It might be something that simplifies life in an obvious way or it might be something that just makes sense.
In this case, fontcapture.com enables you to do something that just makes sense and it does it well. Here are the steps:
1. The good folks at fontcapture.com provide a printable template which you fill out in your own handwriting.
2. Once that's done, you scan the template back to your computer and upload it to their website during the easy step-by-step font creation process.
3. Finally, after a very short wait, they give you a preview of your new font and provide a download link to get the new font on your computer. All this is done for free!
Here is a sample of my finished font: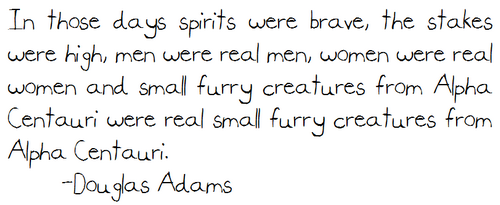 I can see many uses for a personalized handwriting font. For example, those of us who prefer to write letters on the computer and print them out to mail should find this to be very handy. It makes sense to use this kind of font if you keep some kind of daily journal or diary on the computer.
Keep in mind that this won't transfer well to other computers unless your handwriting font is installed there first, but for personalized printed items like letters and cards, this should do nicely.
Head on over to www.fontcapture.com and give it a try. It only takes a few minutes, and the end product is a high-quality font done in your own handwriting for free!
Categories: Computers, Software, Miscellaneous